Auxiliary Battery Malfunction
---
So, 8 weeks after the 3-year warranty expired, Red Ken decided to invoke the Law of Sod and throw up a "Auxiliary Battery Malfunction" warning. Ever the Drama Queen, he decided to flash this warning up on the dash in red letters and accompany it with a repeated warning sound to fully focus my attention towards this bowel-loosening Def Con 1 scenario.
I can only put it down to his sick sense of humour as the mobile rave party eventually abated to a more sedate occasional flashing warning in silent white text.
A quick Google told me I was looking at around £400 to get this fault rectified by the Dealer and even if I consumed my own bodyweight in carrot cake and filtered coffee and filled every pocket with Molton Brown handwash during the visit, I would still be on the losing end of that deal. Digging a bit deeper, I discovered the so-called Auxiliary Battery fitted to the GLC is, in fact, just a simple voltage converter consisting of some components on a circuit board and 4 storage capacitors all housed in a plastic casing. It is primarily required for the Stop/Start facility although may also be integral to some of the other features like radar and cameras.
I decided I would just try swopping out the unit to see if the malfunction warning would clear. After all, in the words of Jeremy Clarkson, "How hard can it be?" Mercedes-Benz of Newcastle run an eBay shop where they offer genuine "re-manufactured" voltage converters for £102.99 delivered (with a hefty £1.03 rebate if you go via the Top Cashback website). But first I had to find the auxiliary battery. Google told me that it was located in the front passenger footwell in the normal C-Class so that seemed like a not too unreasonable starting point. Since modern cars are put together mainly with an Ikea-style click/lock system, copious squeezing, levering and pulling removed most of the panels which allowed me to lift the carpeting and soundproofing and eventually expose the voltage converter mounted at the base of the front bulkhead just below the subwoofer. A single 10mm nut and a latched electrical connector was all that held the unit in place. I plugged the connector into the new unit and tentatively fired Ken up. The malfunction message was gone!!! The air was filled with birdsong, a shaft of light appeared from the heavens and I swear I could hear a chorus of angels.
Further reading on the internet confirms this is not an uncommon fault across the A, C and E-classes as evidenced by a succession of superceded part numbers for the voltage converter. Obviously if the fault occurs within the first 3 years it is just a simple trip over to your Dealer but, for older cars, you can get out of jail for around £100, less than an hour of your time and some sore muscles. Oh, and the experience has also taught me the colour of adrenalin appears to be brown and Artico man-made leather is remarkably stain-resistant.
Duff part (top) vs. Re-manufactured part (bottom)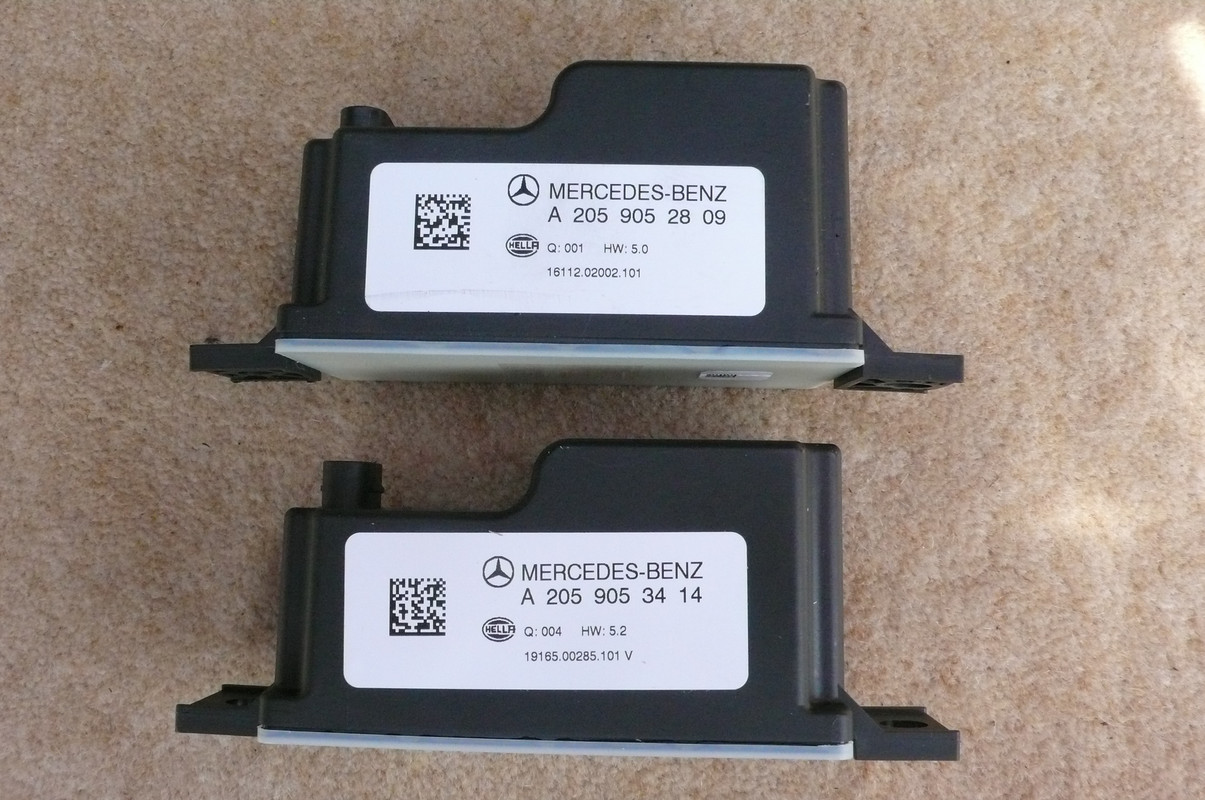 Location of Voltage Converter (a.k.a Auxiliary Battery)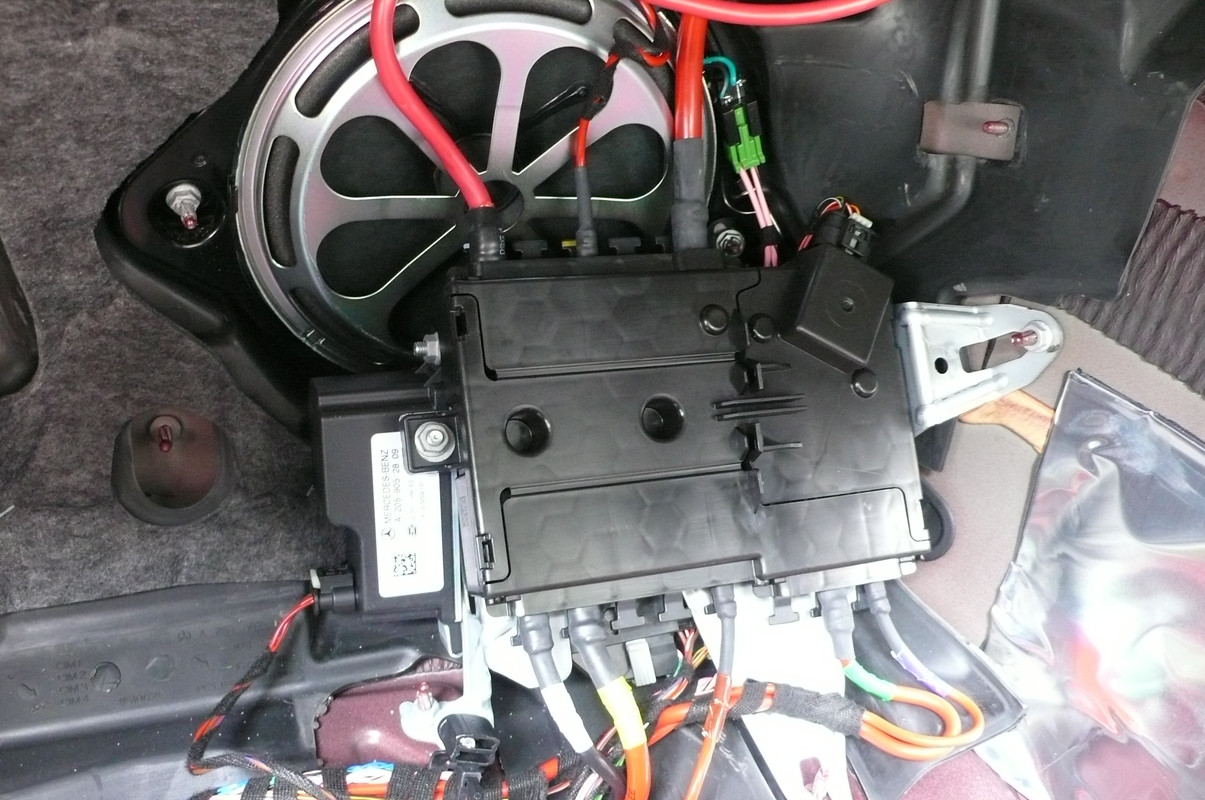 ---
Just once I want someone to call me "Sir" without adding "you're making a scene."
Super Moderator
Join Date: Dec 2016
Location: Dorset
Posts: 1,114
At the start of your post I thought it was going to be a case of Red Ken R.I.P., I should have known he was more resilient than that.
---
2017 GLC AMG43 premium plus, night pack, leather, intel lights, 360 camera, side steps. = sadly gone

Now GLE450 Premium plus, Selenite, Black/White Nappa leather, Tech plus pack, Driving assistance pack, Tow pack, Off road pack, 22 inch wheels.
Interesting and well saved.

Thanks for the info on the Newcastle dealership, do you have a link, I can't find them on ebay.
---
GLC 250d AMG-line. Obsidian black, night pack. 20" wheels, premium plus, 360 cameras, Park pilot, intelligent lights, electric towbar. running boards. mudflaps
Senior Member
Join Date: Oct 2016
Location: Hereford, England, UK
Posts: 441
(Thread Starter)
---
Just once I want someone to call me "Sir" without adding "you're making a scene."
Member
Join Date: Mar 2018
Location: Central Coast, NSW, Australia
Posts: 54
LOL, TooBad,

Great info …..something for all GLC'ers to watch out for.
Not only are you a great wealth of knowledge but also an entertaining wordsmith!!
Good to hear that you and Red Ken are back to being 'good buddies'.

How hard was it to get the plastic panels off?? Any risk of breaking tabs or fasteners??

Also ..interesting placement for this component …...I just would have assumed it would need to be physically closer to the starter motor, given the high current demands. (Those cables look extra beefy!!)
There must be other reasons why this position is better.
(Speculation: High energy capacitors are sensitive creatures ???)

thanks anyway
Phil.
---
GLC 250 Dec '16 build (Petrol, RHD, Australia) Steel springs, 20" Wheels Packs:COMAND, Vision, SC, AMG Line, Side steps Deleted.
Senior Member
Join Date: Oct 2016
Location: Hereford, England, UK
Posts: 441
(Thread Starter)
@
Citizen613
G'day Phil, the plastic panels are fairly compliant. The only conventional fixing I encountered was a T20 Torx-head screw located front and centre of the panel underneath the glovebox. The other 2 fixings on this panel were just spring clips which I located by examining the amount of give present when I tried to lift the edge of the panel. Obviously the clips were at the points of least give. I used a narrow paint scraper to release the tabs from the clips as the concentrated pressure exerted by a screwdriver ran the risk of deforming the plastic. The door sill cover trim was also popped off in this manner. With these two covers off, I could then fold the carpet back whilst easing it out from where it is tucked under the centre console. There is another plastic protection cover at the base of the footwell and this is secured by 3 nuts requiring a 10mm socket. With this removed you can then see the voltage converter as per the photo I posted.
The voltage converter is essentially act as a large capacitor. It is charged up via the regenerative braking system and its main purpose is to continue supplying power to all the car's devices and sensors when the Stop/Start facility shuts the engine off. The idea is to not drain the main battery and compromise its ability to start the engine. Out of interest, I cracked open the duff unit but couldn't see any obvious signs of failure.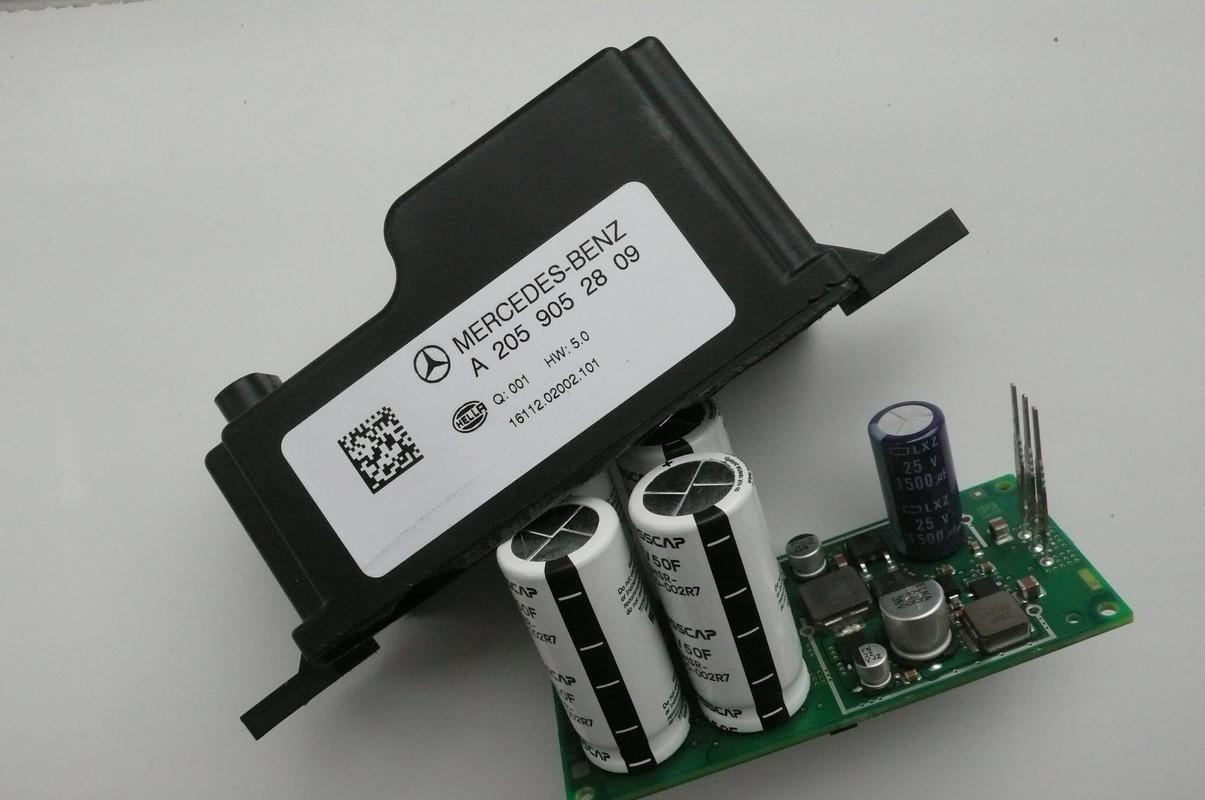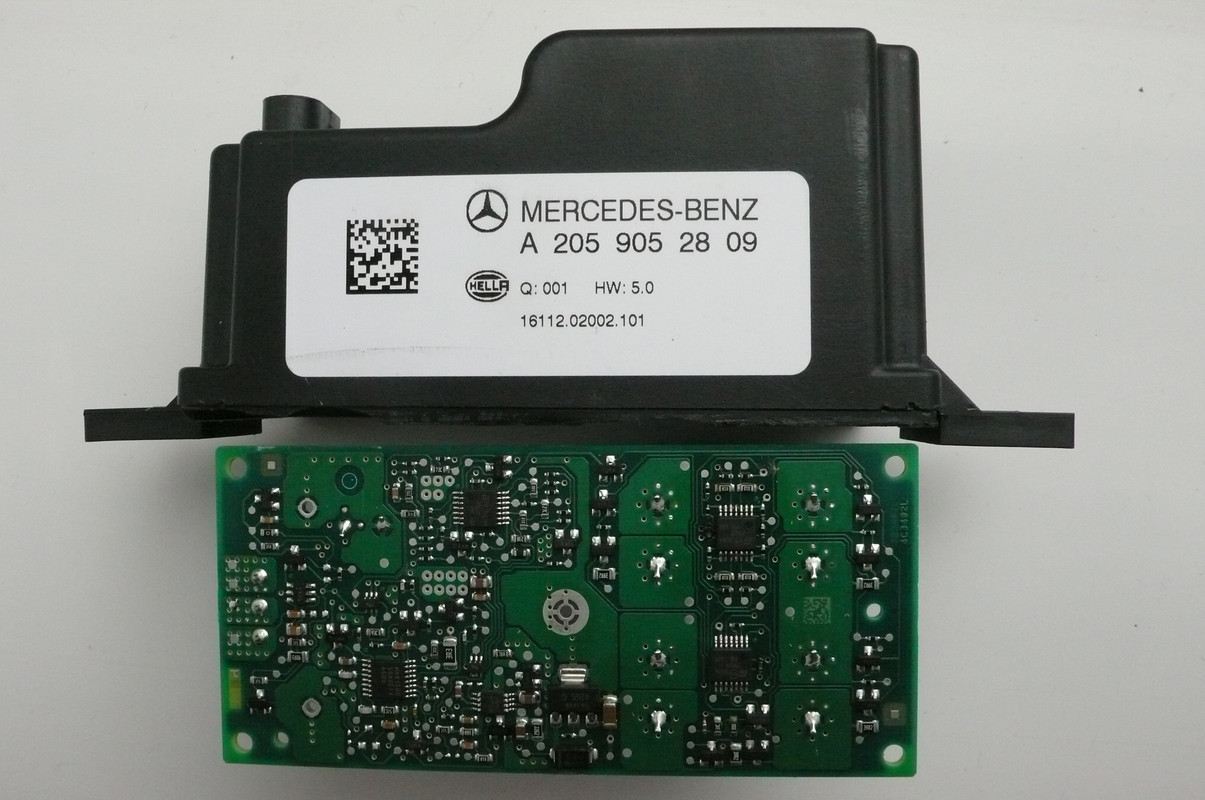 ---
Just once I want someone to call me "Sir" without adding "you're making a scene."
Junior Member
Join Date: Aug 2018
Location: North Yorkshire UK
Posts: 17
I have used the Newcastle MB shop many times TooBad when I had my A45.


They are a top bunch and very helpful especially when my 45 kept blowing the boost pressure sensor every 6 months. They just sent me a few down until a modified part became available and the problem disappeared forever.
---
GLC 250 AMG Line Premium Plus in Design White
Junior Member
Join Date: Nov 2019
Posts: 1
Anyone having trouble with dead battery issues? How did it get resolved ?
Junior Member
Join Date: Jan 2020
Location: Weasenham, Norfolk
Posts: 3
I have been having troubles with this for some years now. Had a new 'battery' fitted, but the problem returned. I am interested in what you said "It is charged up via the regenerative braking system". This may be the answer to what is happening. For example, if one drives slowly and very carefully and does not have much 'over-run' to save fuel, there is not much regenerative braking - like it does not show much on the dash display. Could this be the problem? After a faster run (doesn't happen much around here in the lanes of rural Norfolk!!!), the problem disappears for a short time. Have you given me the answer therefore - if so, huge thanks!!! Mike.
Junior Member
Join Date: Apr 2019
Location: Manchester, UK
Posts: 24
Used to wonder why a motorway run wasnt enough to recharge the aux battery until I looked into it. The aux battery is recharged by regenerative braking on the overrun so doesn't happen on the motorway. Not sure if main alternator only charges on overrun a la BMW or not.