Discussion Starter
·
#1
·
So, 8 weeks after the 3-year warranty expired, Red Ken decided to invoke the Law of Sod and throw up a "Auxiliary Battery Malfunction" warning. Ever the Drama Queen, he decided to flash this warning up on the dash in red letters and accompany it with a repeated warning sound to fully focus my attention towards this bowel-loosening Def Con 1 scenario.
I can only put it down to his sick sense of humour as the mobile rave party eventually abated to a more sedate occasional flashing warning in silent white text.
A quick Google told me I was looking at around £400 to get this fault rectified by the Dealer and even if I consumed my own bodyweight in carrot cake and filtered coffee and filled every pocket with Molton Brown handwash during the visit, I would still be on the losing end of that deal. Digging a bit deeper, I discovered the so-called Auxiliary Battery fitted to the GLC is, in fact, just a simple voltage converter consisting of some components on a circuit board and 4 storage capacitors all housed in a plastic casing. It is primarily required for the Stop/Start facility although may also be integral to some of the other features like radar and cameras.
I decided I would just try swopping out the unit to see if the malfunction warning would clear. After all, in the words of Jeremy Clarkson, "How hard can it be?" Mercedes-Benz of Newcastle run an eBay shop where they offer genuine "re-manufactured" voltage converters for £102.99 delivered (with a hefty £1.03 rebate if you go via the Top Cashback website). But first I had to find the auxiliary battery. Google told me that it was located in the front passenger footwell in the normal C-Class so that seemed like a not too unreasonable starting point. Since modern cars are put together mainly with an Ikea-style click/lock system, copious squeezing, levering and pulling removed most of the panels which allowed me to lift the carpeting and soundproofing and eventually expose the voltage converter mounted at the base of the front bulkhead just below the subwoofer. A single 10mm nut and a latched electrical connector was all that held the unit in place. I plugged the connector into the new unit and tentatively fired Ken up. The malfunction message was gone!!! The air was filled with birdsong, a shaft of light appeared from the heavens and I swear I could hear a chorus of angels.
Further reading on the internet confirms this is not an uncommon fault across the A, C and E-classes as evidenced by a succession of superceded part numbers for the voltage converter. Obviously if the fault occurs within the first 3 years it is just a simple trip over to your Dealer but, for older cars, you can get out of jail for around £100, less than an hour of your time and some sore muscles. Oh, and the experience has also taught me the colour of adrenalin appears to be brown and Artico man-made leather is remarkably stain-resistant.
Duff part (top) vs. Re-manufactured part (bottom)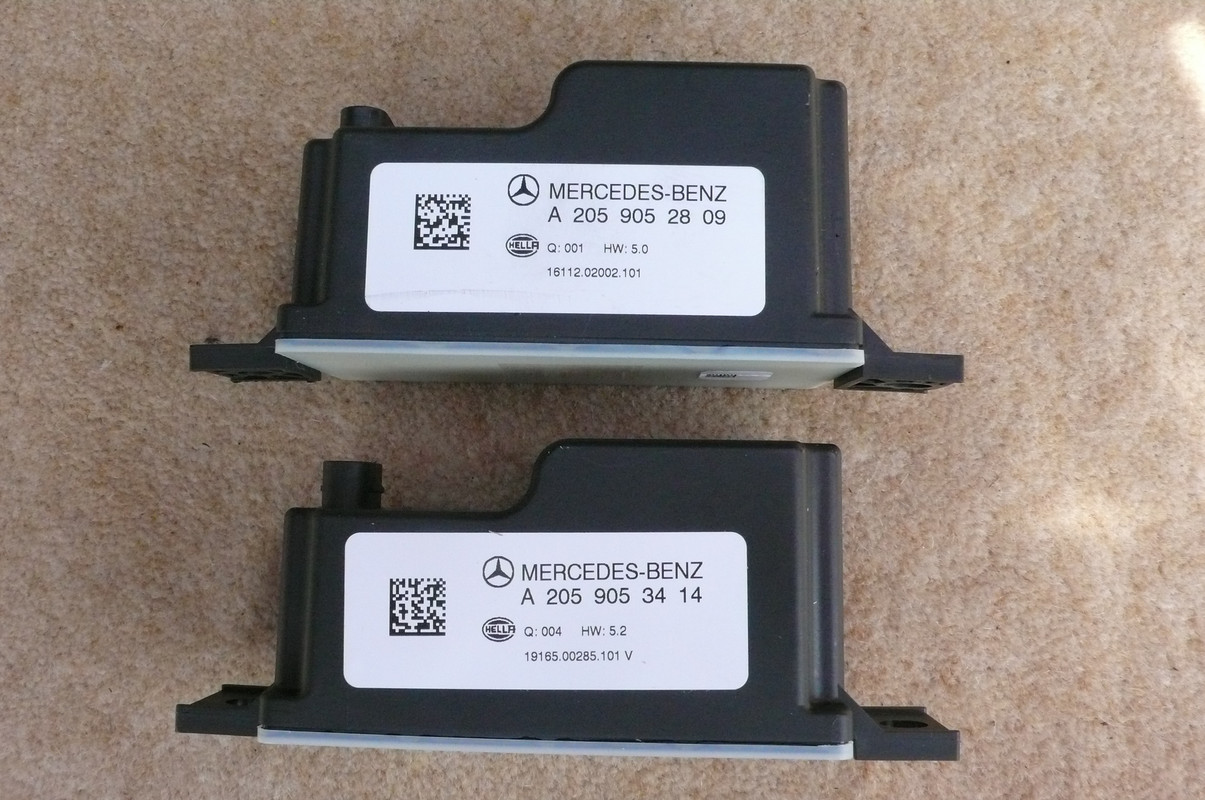 Location of Voltage Converter (a.k.a Auxiliary Battery)